So for those of you who don't know, I suffer from some serious anxiety and self-acceptance. Usually, these two things are not mutually exclusive… It can be tough to say the least. It's taken me a long time to accept a lot of personal things about myself that have fed those two awful attributes. But what I've learned is that the more I accept, the happier I am with myself. My body has been an ongoing struggle that I'm in between accepting and not accepting.
There are a lot of articles about how cosplay has helped people learn to love their bodies. In fact, my interview with miss Becca Davila was all about that! In our podcast together, she talked about how cosplay made her feel and the positivity that came with it.
So this year for Vegas's Sabakon, I got three actual, legitimate cosplays together for all three days. And I think it was probably the best time of my life if I'm being honest.
I've been to Sabakon before, in fact it was the first anime convention I'd ever been to, but there is a difference to the con experience when you're in a cosplay and everyone is calling your character's name.
It was so awesome to have people think my cosplays were good and ask me to take photos. Of course, my Zillyhoo is never to be taken lightly and most the Homestuck fans that attended thought it looked nice. But my Undyne cosplay really killed that Saturday and King was so comfortable to wear, I think I could sleep in his outfit.
A lot of it had to do with the feeling that my hard work paid off. That people genuinely liked my cosplay. And the other part was something that I've been trying to be more and more open about which is showing off my body more.
I was so worried that my body would make the costumes and outfits look out of place or that my face wouldn't fit right and everything would be off. But when people come up and ask to take a photo with you, or when they just tell you that you look great… The feeling of approval feels worth it.
And I get that sometimes it can be nerve wracking to go up and ask someone for a photo or even just to tell them you like their cosplay. I know that for the entire weekend there were a lot of cosplay crushes I had that I just wanted to go up and tell them "Hey! You! You look like a golden unicorn standing on a cliff during a burning sunset watching two whales sing love songs to each other as their day ends!" but, alas, I was way too shy.
I guess there are two things to take away from this. One, if you want to cosplay, do whatever it takes to make it happen. The way it'll make you feel… Trust me, it's worth it. This isn't to say that other people's opinion or approval matters, because it doesn't, but there will always be people at conventions who will support you. It's nice to be able to meet those people, you know? And two, if you're at a con and you really like a person's cosplay, tell them! They put in a lot of work and I'm sure it will mean the world to them.
If you guys have the time, I did actually get published for covering Sabakon 2016, so check out the article on Las Vegas Informer! 

 Or, if you want to check out my personal cosplay endeavors, check out my Instagram at ashleysanime!
Have fun fellow cosplayers, see you out there!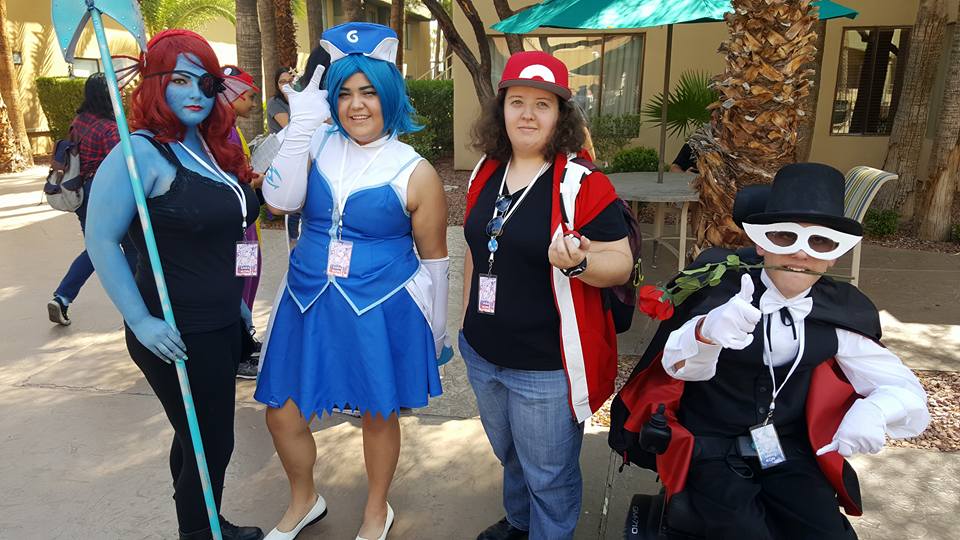 What do you cosplay? Tell me in the comment section below!